Fuorisalone Milan 2023
19.04.23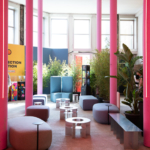 For the Milan Design Week, this year we're partnering with glo™ for the installation 'Dry Days, Tropical Nights' curated by artist Agostino Iacurci. The project colours the imposing tower in largo Treves, designed in the 1950s by Arrigo Arrighetti and soon to be demolished, transforming it into the hub of the Brera Design District. The goal is to stimulate reflection on climate change and invite the public to imagine a better future for humanity and for the planet.
Welcoming guests to the lounge and talk areas will be the modular sofas Shock and Quiet (design Alessandro Crosera), the Bakku poufs (design Margherita Rui) and the Fungus stools, chosen in shades of blue, light blue and pastel tones.
To vote for 'Dry Days, Tropical Nights' nominated for the Fuorisalone Award, visit https://bit.ly/FuoriSalone_DryDaysTropicalNights.
At the same time, our best solutions designed for the contract environment will be on exhibit at the Pianca & Partners concept store.
—
Milani @ Fuorisalone 2023
17/23.04.2023
'Dry Days, Tropical Nights' | glo™ for art – Agostino Iacurci
Palazzo Treves, Largo Treves, 1
Art direction photo: Dogtrot studio
Photo: Maurizio Polese
Pianca & Partners
Via Porta Tenaglia, 7N3
#Adv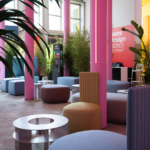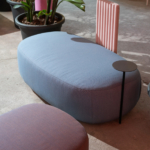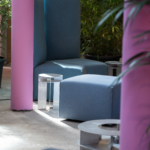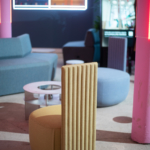 return to news